My Services
Animations - $3.00
Animated blinkie - $6.00
Exclusive Scrap Kits for Forums - $10.00
Exclusive Scrap Kit for U - $6.00
please feel free to contact me. If there is something special you want made, just let me know. I'm more than happy to do the best I can to create what it is you are looking for. In the subject line put "Request". All payments are through paypal. Please email me at the email addy listed below. Thank you.
xox,
Janice
JEKcreations
Fullyloadedtrucker@yahoo.com


Labels

Thursday, February 16, 2012
Here are a few new sets I have made with my animations. I would love to see what you make with my ani's. xox
On this set below I used the lovely artwork of B.Jensen. I used my tiny gold clovers animation. I like the colors, and the butterflies are just lovely.
This set below I once again used the art of B.Jensen. This time I used my golden shamrocks.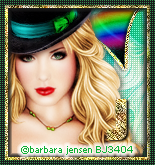 On this set I used the artwork of EC. Now this animation is not mine. This animation is by Missy. You can find this animation over at her blog. I thought it turned out nice and wanted to share it.
On this set I used a sparkle animations.
You can fins all my animations here on my blog. Just use the blog archive, and it wil ltake you to all the ani's. Enjoy!
About Me
JEKcreations (Janice)

Im a wife and; mother. I live a simple life, and I just adore the arts. I love to be crafty, and sharing those special moments with family.
View my complete profile

Pages